THE NATURE OF CREATIVITY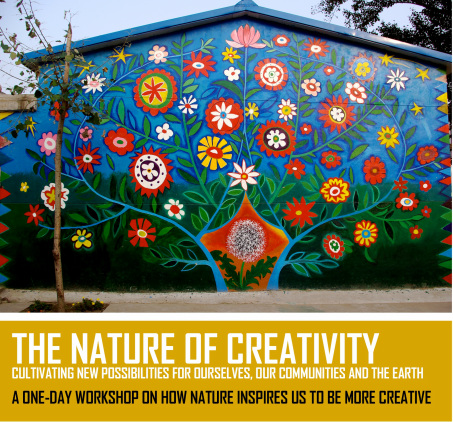 9AM-4PM, SEPTEMBER 28, 2013
Center for Innovation at South Kent SchoolNOTE NEW LOCATION AT SCHOOL:170 South Kent Road | South Kent, CT 06785 | Map
PLUS ... THE NATURE OF WINE
A SPECIAL EVENING EXPLORING THE INTERSECTION OF CREATIVITY, WINE AND THE BRAIN // 5:30-7PM // MOREHopkins Vineyard25 Hopkins Road | Warren, CT 06777 | MapPRESENTED BY:
International Centre for Creativity and Imagination
REGISTER NOW!'My gift to you is memory ... and the hope that in remembering
you may shape a new imagining for this earthball world of ours.'

– Anne F. O'Reilly

---
Come ready to discover something new ... and consider how the creativity of nature can help us tap
our
creative nature to improve the common good. In this workshop, you will explore the creative process as it is modeled in nature, learn how to overcome blocks to your creativity, practice accessing your creative inner nature, and discover ways to connect beyond yourself to take action.
This workshop is open to everyone.
It assumes that we are all creative beings who can continue to learn new ways to get unstuck, develop original ideas, problem solve differently and generally be more creative on purpose. We are excited to be hosted by
South Kent School's Center for Innovation
, which encourages inquiry into the dynamic interplay between human creativity, intuition and sustainability. The center and its curriculum are a real example of applying creativity in the world to make a difference -- one of the ideas we'll be exploring in the workshop! //
MORE
_______________________________________________________________________


ANNE F. O'REILLY


POET, MYSTIC AND TEACHER
AUTHOR, SACRED PLAY AND SINGING FROM THE BELLY OF THE WHALE

---

"I learned that there are many forms of creativity and that I am creative. I rediscovered my creative self."
- Kathy O'Neill, Educator

"I was surprised that poetry can give me a path to express creativity."
- Rodrigo Jimenez, Designer


STEVEN DAHLBERG


DIRECTOR, INTERNATIONAL CENTRE FOR CREATIVITY AND IMAGINATION


---
_______________________________________________________________________

PARTNERS

---
Special thanks to Lily Yeh for the use of her "Tree of Life" mural image from the Dandelion School in Beijing.